W
e offer high quality digital imaging for both indoor and outdoor applications. Our job turn over time is usually within 2-4 days. If requested, we can rush an order through and in many cases turn a job over in less than 24 hours.
We also work with air cargo companies and various shippers so that we can have your products delivered anywhere in the continental United States. This delivery system allows us to meet difficult deadlines and move product to your doorstep, in many cases, by the next business day.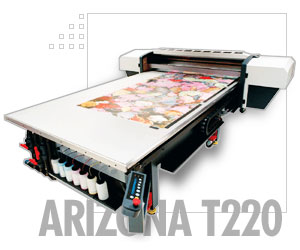 One of our most popular engines is the Oce' Arizona T220 which is an ultraviolet platform that prints UV cured inks to almost any surface. This is a static (vaccum) system which holds material up to 2" thick with a maximum sheet size of 62" x 120". This engine will hold the material to a vacuum table and allow for overprinting up to 8 times without any loss in registration. We can print on rigid materials, prefabricated materials, banners, canvas, wood, cardboard, glass, acrylic, polycarbonate, and the list goes on. In fact, we have a hard time finding a material this machine cannot print on! The outdoor life span of the UV inks is easily 3 plus years without any lamination or protective coating.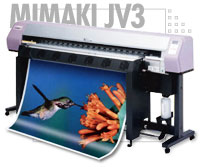 Another popular engine we use is the Mimaki JV3. This platform uses solvent-based inks that bite into any materials and have excellent durability both inside and outside. This engine is perfect for outdoor banners, display graphics, vehicle wraps, perforated window films, construction mesh, event signs and much more. The life span of solvent-based inked products without laminate is 2 years. If laminated, the life span can be extended to 5 plus years.
Also, we offer an array of finishing services from custom-shaped routed panels to welded or stitched oversized banners. We can contour printed vinyl graphics to offer full color vinyl decals for almost any application.
Feel free to contact us :
info@popgraphicsusa.com
Or call and speak to a
POPGRAPHICSUSA.COM
representative:
954.577.3188
Or fax us your inquiry at:
954.577.3195